In this article we'll focus on Downtown Miami's diverse neighborhoods, including Brickell, Mary Brickell Village, Brickell Key, the Financial District, Downtown Central, Miami River Corridor, Biscayne Wall, Park West and Overtown. We'll delve into each district to explore the lifestyle each neighborhood offers and to see what's driving each neighborhood's growth.
BRICKELL
Brickell is located on the southeast end of Downtown bordering Biscayne Bay to the east and South Miami Avenue to the west. Brickell is mostly known for its gated high-rise condos which border Biscayne Bay. Treelined Brickell Avenue is the major artery connecting the neighborhood to Miami's Downtown Financial District. The area is very safe, and it's a favorite for those who want to live close to an urban scene, but still want to live in a neighborhood that's serene. Residential condo towers range from the older (and more affordable) buildings to newer state-of-art luxury towers with prices that range in the millions of dollars.
Neighborhood Features:
• Waterfront community
• Safe to walk, jog or ride a bicycle
• Private gated high-rise condos
• Very close to retail shops and restaurants
• Community boat docks for many bayfront residences
• Vast bay views for many residences
• Diverse price range - from $200,000 to $18,000,000
Some of the Most Popular Residential Condo Buildings:
• Four Seasons Residences
• Santa Maria
• Brickell House
• Bristol Tower
• Jade at Brickell Bay
• Villa Regina
• Brickell Bay Club
• Skyline on Brickell
• Imperial at Brickell
• The Palace
Photo: Brickell waterfront high-rise residents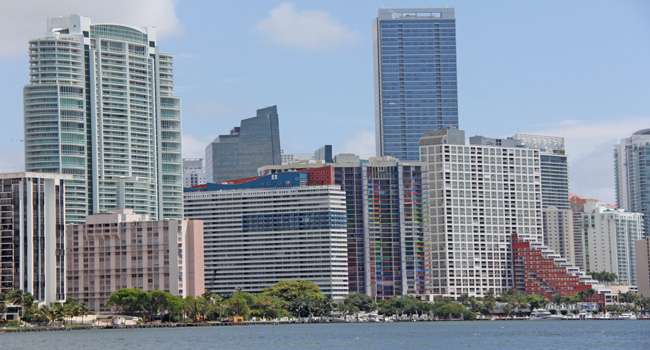 MARY BRICKELL VILLAGE
If you're looking for an urban village with pedestrian-friendly streets full of retail shops and restaurants, then Mary Brickell Village is for you. The village is becoming the fastest growing area in Downtown Miami. New luxury residential towers are being erected along both sides South Miami Avenue, which will change the skyline. With the introduction of Miami's first tech-savvy 21st century engineered residential towers, Mary Brickell Village is at the epicenter of Downtown Miami's redevelopment. The billion-dollar Brickell City Centre is currently under construction, and when complete it will become Brickell Mary Village's new landmark. Saks Fifth Avenue and Cinemex will be two of the anchor tenants at Brickell City Centre, which is scheduled to open in the fall of 2016.
Neighborhood Features:
• New affordable-luxury and luxury high-rise residences under construction
• Major shopping centers (soon to be completed) along with village retail shops
• Treelined streets with wide sidewalks
• Next to the Financial District
• Close to the Miami River Corridor
• Only a few miles from Little Havana
• Proximate to mass transit hubs, including the Metro Mover, which circles Downtown
• Diverse price range - from $350,000 to $4,000,000
Some of The Most Popular Residential Condo Buildings:
Completed and available for resales:
Photo: Mary Brickell Village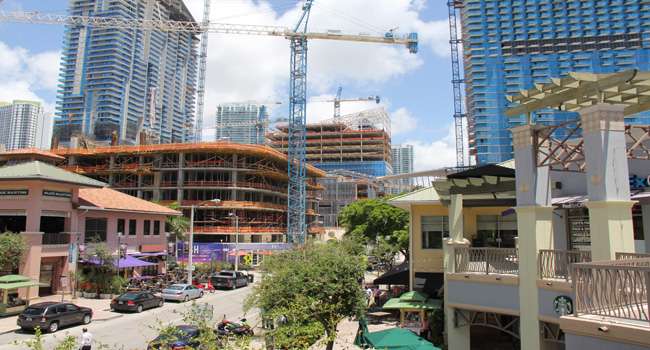 • 1100 Millecento Residences
• Axis on Brickell
• Nine at Mary Brickell
• My Brickell
Under Construction:
• Brickell City Centre Reach Tower
• Brickell City Centre Rise Tower
• SLS Hotel & Residences
• SLS LUX
• Brickell Heights
• Brickell Heights 2 (BH2)
• Brickell Flatiron
• The Bond
• 1010 Brickell
• Echo Brickell
• Panorama Tower
Residences in surrounding neighborhoods to the south and west of Brickell
• Le Parc At Brickell
• Cassa Brickell
• Brickell Ten
• Broadstone Brickell (Rentals)
• SoMa at Brickell
BRICKELL KEY
A gated island community that sits at the mouth of the Miami River, Brickell Key is home to affordable-luxury and luxury residential high-rise condos - many of which have optimal views of Biscayne Bay. The community has its own retail center complete with a coffee shop, restaurants and boutiques. Also, the exclusive Mandarin Oriental Hotel is located on this island. Brickell Key has security, and it's very safe. Residents can access the Financial District and Mary Brickell Village either by walking across a small bridge or - of course - by car.
Neighborhood Features:
• Gated island neighborhood
• The community has its own village town square
• Tropical mature landscaping throughout the island
• Next to the Financial District
• Resort hotel located on the island
• Diverse price range - from $300,000 to $8,000,000
Some of the Most Popular Residential Condo Buildings:
• Asia
• Brickell Key
• Courts at Brickell Key
• Carbonell
• Three Tequesta Point
• Courvoisier Courts
• Isola
Photo: Brickell Key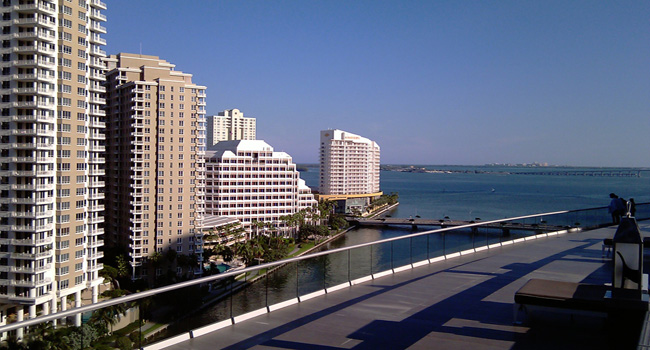 FINANCIAL DISTRICT
Downtown Miami's Financial District is home to 53 banking offices, the majority of which are international banks or private-wealth banks from Latin America and around the world. With Downtown's expansion, the city is attracting investment bankers, public and private wealth managers, venture capitalists and international law firms. Between the existing banking infrastructure and the influx of new capital, Miami's Financial District is certainly becoming Wall Street South.
Proposed Projects:
• Icon Brickell
• One Brickell City Centre
• One Brickell
* One Bayfront Plaza
Photo: Financial District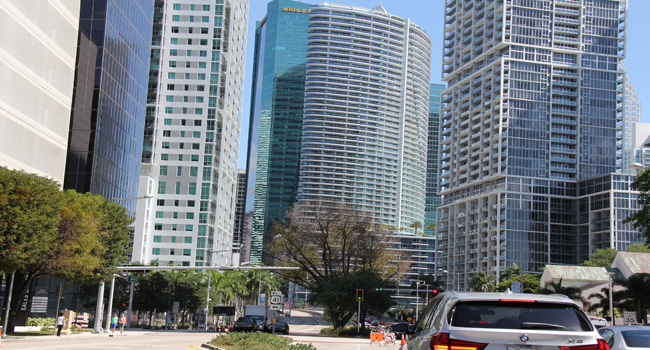 DOWNTOWN CENTRAL (including the Historic District on Flagler Avenue)
Downtown Central can be divided into two areas, the New District and Historic District. The New District is located on the north bank of the Miami River, and it's filled with popular hotels, restaurants, luxury residential towers and a brand new Whole Foods Market. Soon to come will be a luxury cinema, new luxury rental apartments and more retail. Met 3 broke ground on a mixed-use tower. As the tower will sit atop one of Miami's most significant archeological finds in years, Met 3 will have a see-through ground floor that showcases artifacts left by the Tequesta Indians, who were quite possibly Miami's first residents.
The Historic District is centered around Flagler Street, which was Miami's main commerce center in the late 1800s and early 1900s. Flagler Street is currently going through major streetscape upgrade which includes wider sidewalks, new street lamps and landscaping. Investors are starting to assemble properties on Flagler Street to turn the street into the next hot neighborhood. Just to the north of Flagler Street sits the Education District, which hosts private and public schools and universities, including the esteemed Miami Dade College, which is home to Miami Book Fair International as well as numerous cultural and intellectual events throughout the year.
HISTORIC DISTRICT:
• Loft Downtown 2
• 50 Biscayne
• Viscayne North Tower
• Viscayne South Tower
• Centro Lofts (Finishing Construction)
• Liquid Lofts (Proposed)
NEW DISTRICT:
• Epic Residences
• Met 1
• One Miami East
• One Miami West
• Met Square (Under Construction, rentals only)
Photo: New Central District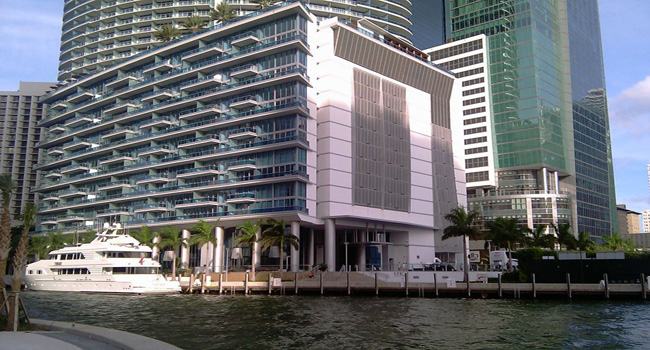 Photo: Historic Downtown District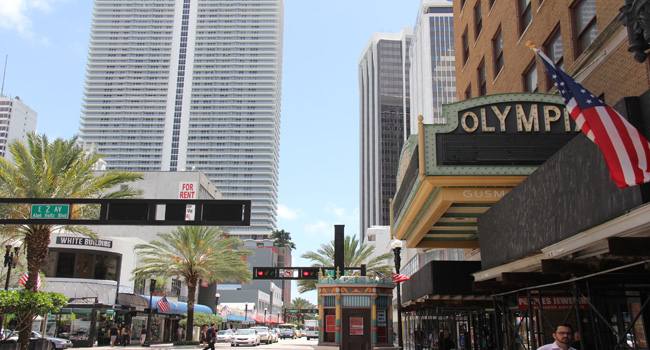 MIAMI RIVER CORRIDOR
This neighborhood, which is home to a portion of Miami's shipping and fishing industries, is undergoing a revitalization. Taking advantage of water views and access to Biscayne Bay, many exciting new projects are developing riverside:
New Residential Projects:
• Edge on Brickell (south bank of river) Planning
• Miami River Village (north bank of river) Proposed
• Flagler on the River (rentals only - under construction - north bank of river)
• Flagler Cove Park (north bank of river)
Photo: Miami River District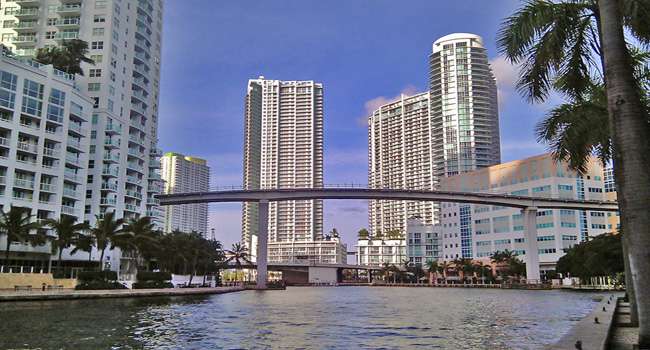 BISCAYNE WALL
This neighborhood is on its way to becoming one of the most prestigious areas in Downtown Miami. Located on the northeast end of town, Biscayne Wall's high-rise condo towers line Biscayne Blvd and create a wall effect, hence the neighborhood's moniker. The apartments that face east have stunning views of Museum Park, Biscayne Bay, cruise ships in Government Cut, Fisher Island and - on the high floors - Miami Beach and the blue waters of the Atlantic Ocean. Major development projects, such as Miami Central Station and Miami World Center, are under construction in Park West just behind the Biscayne Wall. For the Miami Heat fans, the American Airlines Arena is a quick walk from any of Biscayne Wall's residential buildings.
Newer Towers:
• Marquis Residences
• Ten Museum Park
• 900 Biscayne Bay
• 888 Marina Blue
Under Construction:
• One Thousand Museum Park
Photo: Biscayne Wall from the AAA Miami Areana (Miami Heat)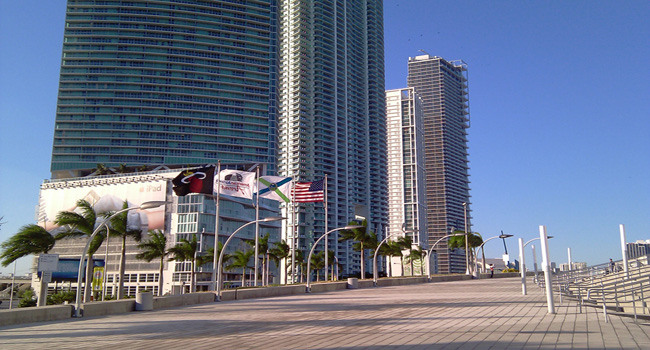 PARK WEST
This new district is getting a complete overhaul. When complete, it will be home to some of Miami's largest development projects, which are certain to turn this blighted area into a thriving district. Park West's central location -next to mass transit and all of the major highway arteries that connect to the rest of the city - will also make it very convenient. Miami World Center is one the area's largest developments: it will include almost 30 acres and will cost close to $3 billion.
Next to this development is the All Aboard Florida mega project, home to Miami Central Station (now under construction). All Aboard Florida's rails will link Miami to Orlando via a fast train.This fast train will also connect Miami to Fort Lauderdale and Palm Beach as well as Orlando, and it will make the four-city journey in under three hours. All Aboard Florida's Miami station will also be an intracity multimodal hub and an urban live-work-play neighborhood. This ambitious mixed-use project will also include large retail areas, an office building and residences. A developer in Park West has a 10 acre assamblage that has a proposed Inovation District that will be tech-focused.
Under Construction:
• Paramount Miami World Center Residences
• Paramount Miami World Center Tower 1 (rentals only)
• Marriott Marquis Hotel and Convention Center
• All Aboard Florida Miami Central Station
Photo: Proposed Innovation District & All Abaord Central Station under construction.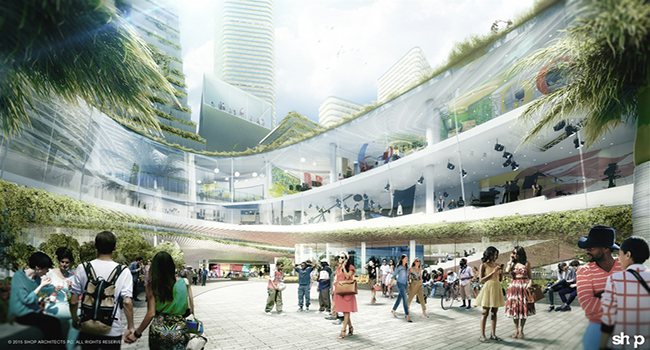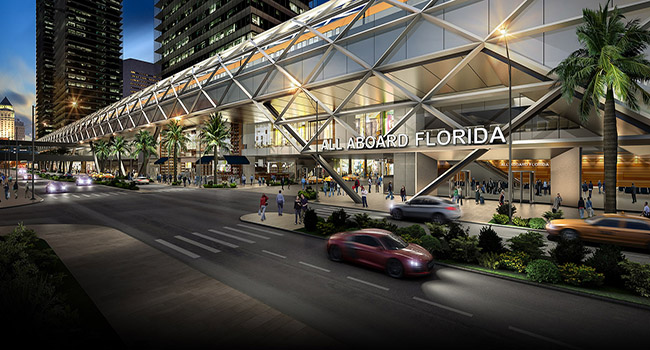 OVERTOWN
From a thriving historically African-American neighborhood to a declining slum, Overtown has stood for decades as one of Miami's most overlooked and underdeveloped neighborhoods. However, now that's all changing. Simply put, the location is too central to the mass transit multimodal station and rapid development happening in nearby Downtown to avoid gentrification. A newly-formed Community Redevelopment Agency (CRA) oversees all new developments in the neighborhood with the overriding goal of stimulating the area with affordable housing and good-paying jobs for Overtown's residents. Overtown is ripe for new development, and we're starting to see solid investments being made to revive this one-time historic community. Also of note, the soccer player, David Beckham, is considering Overtown as a potential home for his MLS soccer stadium.
Planning Stages:
• 3 MiamiCentral (office, retail & parking only)
• Island Living (affordable housing)
Photo: Map of Park West, Overtown, Biscayne Wall future development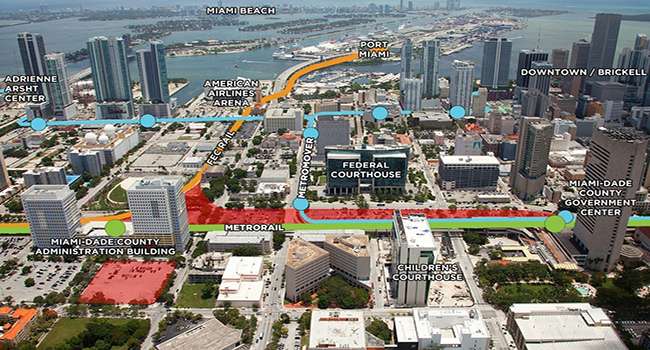 MORE DOWNTOWN MIAMI INFORMAITON, PROPERTY SEARCH AND NEIGBORHOOD VIDEO