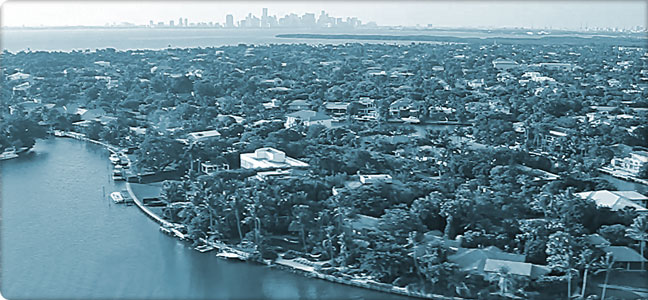 Buying in Miami Q & A
International buyer's facts and questions on purchasing Miami properties
We specialize in helping international buyers purchase Miami real estate. Professional title attorneys, bank loan officers, insurance companies and many other professional affiliates are available to facilitate your successful closing.
Quick facts

Foreign nationals make up a large percentage of purchases in Miami. Many take advantage of good pricing and favorable money exchange rates. All cash offers have been the trend.
Financing for foreign nationals is available for most residential real estate properties, but expect a longer closing period.
Miami is truly a city of nations. With buyers from Brazil, Venezuela, Colombia, Mexico, Argentina, Canada, France and Russia and many other nations.
Popular neighborhoods include Brickell (business district), Downtown, Midtown, Miami Beach, Sunny Isles, Bal Harbour and south of fifth "SOFI"
Miami ultra-luxury homes are sought after by clientele from all over the world.
Miami's on-going infrastructure projects and planned multi-use developments aim to bring Miami to the status of a gateway city of the future.
Having general market knowledge is very important when purchasing in Miami. Following are some key points to help you understand market conditions here.
Miami real estate market is made up of many diverse areas and neighborhoods each with unique market conditions. While some communities are distressed, others like the coastal areas, Downtown, Midtown and other eastern communities, are stable. Some areas like South Beach's SOFI neighborhood are seeing prices increase.
Understanding the market differences between distressed properties and non-distressed properties is critical.
Distressed properties
While distressed properties can sometimes be priced below market value, it's important to be aware that these deals are much more complicated and take longer to close.
REO's- are Real Estate Owned by the bank. You will negotiate through your real estate agent and purchase directly from the bank.
Foreclosures- properties up for auction to the public a thorough understanding of this type of buying is necessary, as they can have non-disclosed title defects (caveat emptor= "let the buyer beware"). These transactions are usually all cash deals.
Short sales- you are purchasing a property from a seller that owes more to the bank or note holder than what the property is worth. When you make an offer on a short sale and the property owner accepts, the bank or note holder must approve the offer before proceeding to close. The buyer signs a short sale contract which states this contract is contingent on third party approval.
Non-distressed properties
These are the majority of properties on the market and usually close with fewer issues. The seller does not need the bank to approve the offer.
Major Infrastructure Project Started
Aggressive updating and maintenance will ensure that Miami's infrastructure remain world-class. Planned future projects for our next generation gateway city:
PORT OF MIAMI TUNNEL- Miami's seaport expansion project is scheduled to be completed by 2114, to coincide with the inauguration of the Panama Canal expansion. This is a three-phase project, which includes a new tunnel underneath government cut into the seaport. This will allow ship containers to exit the port more quickly.
FEC RAILWAY PROJECT -will link the Port of Miami to a rail yard near Miami International Airport.
GOVERNMENT CUT DREDGING PROJECT- The waterway will be dredged to 50' so the Post Panamax ships, with up to triple the cargo capacity, will be able to enter the port
MIAMI RIVER WALK, EXTENSION & RIVER GREENWAY PLAN-make up new pedestrian and bicycle paths on both sides of the river which will link neighborhoods, parks and community centers.
MIAMI INTERMODAL CENTER (MIC)- is a $1.7 billion transportation hub being built across from Miami International Airport (MIA) it will provide easy connectivity between all forms of transportation to Miami destinations.
Large New Developments Planned.
BRICKELL CITICENTRE-Swire Properties, of Hong Kong, Is estimated to invest $700 million in a mixed-use project which will include offices, retail, restaurants, nightclubs, business hotel, rental apartments, and residential condominiums.
RESORTS WORLD MIAMI-The Genting Group spent a record- breaking $236 million to buy 14 acres fronting Biscayne Bay in the Omni corridor. A planned investment of $3 Billion for a mixed-use project will include condo units, hotels, retail, restaurants, and casino gambling (pending state approval).
METROPOLITAN MIAIM-will build luxury residences, featuring 24-hour fitness, Whole Foods Market and Met Square urban center with a 13 screen movie theatre, restaurants, and retail.
SONESTA MIKADO HOTEL-Under a deal approved by the Miami Community Redevelopment Agency, a 250-room Sonesta Mikado Hotel will be built in the Omni Corridor, with an investment of $62 million.
ONE BAYFRONT PLAZA -One Bayfront Plaza will be the tallest building in Miami once it replaces the 1950s-era office complex on the site. The new $1.8 billion twisting tower will contain class-A office space, a hotel, and retail.
MIDTOWN MIAMI ENTERTAINMENT COMPLEX – an estimated $60 million entertainment complex in the Midtown district, which will include restaurants, retail, offices and condos.
DESIGN DISTRICT- Dacra CEO Craig Robins, the largest land owner in the design district, is investing $40 million in the area. New anchor tenants will be Louis Vuitton and the nearly dozen other LVMH subsidiaries.
NEW BASEBALL STADIUM–The Florida Marlins' new home will be a 37,000 seat stadium with a retractable roof and air conditioning.
*Information is believed accurate but not guaranteed*